Save the Date: November 10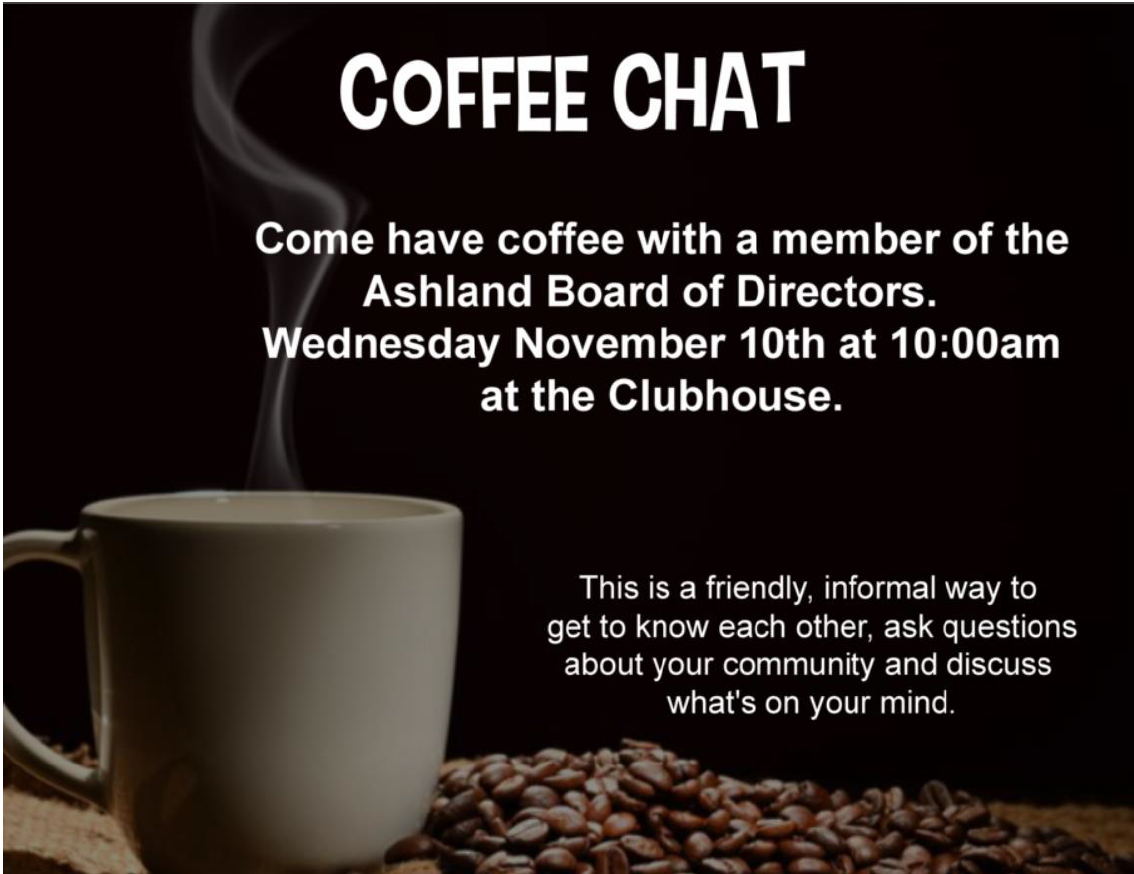 The next Board of Director's Monthly Meeting will take place Monday November 15, 2021
Vaccinated attendees are not required to wear a mask.  We strongly encourage you to wear one if you are not vaccinated.
Please contact the management office with any questions.
Approved Meeting Minutes August 2021 
 September and October Newsletter PDF. If you have a submission for the November and December Newsletter, please contact Alex at ashlandfitness@comcast.net 
We received the following email from American Disposal.  
Dear Ashland Conservancy Inc
You are receiving this notification due to a delay in your YARD DEBRIS scheduled service for 10/26/2021. if you were not serviced, services will be provided tomorrow. Please forward this information on to those whom also need to be informed.   
Account Detail:
Site ID:
Site Name: Ashland Conservancy Inc
Site Address: Fincastle Dr
We appreciate your patience and apologize for any inconvenience.
American Disposal Services
Please leave your yard debris on the curb for pick up on Wednesday.  If you need to report your debris was not picked up, please email American Disposal at HOA@adismail.com. We are sorry for the inconvenience.
---
Yard Waste Collection TUESDAY begin Oct 1, 2021
**IMPORTANT YARD DEBRIS COLLECTION NOTICE**
SERVICE DAY: Curbside Yardwaste Service on Tuesdays 
Yard Debris Collection: As you may already be aware, Prince William County revised their code, which no longer allows yard debris material to be mixed or collected with regular household trash. This new mandate requires an additional truck to be added to the community at a minimum of once a week during yard waste season for yard waste material only. Therefore, your other services will remain the same and this will be added as an additional pick up. For more information on this mandate, please visit their website at: www.pwcva.gov/department/solid-waste-management/yard-waste 
Preparation: Grass clippings and leaves need to be placed in brown paper bags. Personal cans may be used; however, they need to be marked "Yard Debris". Tree limbs and brush must be no longer than 4-5 feet in length and 3 inches thick in diameter. These items must be tied with rope or twine in arm-length bundles. Bundles are not to exceed 50 pounds. Rocks, sod, and dirt are not acceptable. We will collect up to 10 bags and/or labeled personal cans and up to l0 bundles of brush per collection.
 These compostable paper bags can be purchased online, you can buy them at the grocery store, or find them at warehouse stores such as Home Depot, Lowes, or any garden Centers. We will not collect material in plastic bags.
 Yard waste collection is seasonal and will run from March through December. Christmas Trees will be collected the first two full weeks of January, as a part of the yard waste collection program.   
**Please have your items curbside the night before to ensure collection. 
If you have any questions, please email us at HOA@adsimail.com. You may also call our Customer Service Department at 703.368.0500. Monday through Friday from 8:00 AM to 4:30 PM.
———————————————————————–
EVENTS SCHEDULE FOR 2021
December 4th – Cookies with Santa
December 11th – Christmas Home Decorating Contest
———————————————————————–
In view of recent feedback received from homeowners, we would like to take a moment and go over the means of information dissemination currently used by Ashland Conservancy, which is predominantly via e-mail.
Please note that every effort is being made to collect e-mail addresses from residents when they move into the community. These notices are disseminated with respect to upcoming community events, vandalism episodes, trash/recyclables collection schedule, etc.
As described below, there are several ways to get your e-mail address added to the list:
Provide your e-mail address on the form you are required to fill out when applying for Ashland Conservancy membership cards.

Access the link provided on the website, which directs your request to Alex's inbox (ashlandfitness@comcast.net) or simply e-mail Alex directly at the already mentioned address.
Unfortunately, due to restrictions imposed by Comcast, in an attempt to reduce spam, only one e-mail address per household can be used.
We are limited in the number of e-mails we can send and are allowed only one group e-mailing per day. We highly recommend providing the address that you frequently use.
Thank you,
Board of Directors
——————————————————–

The Board of Directors meeting will  be held on the third Monday of each month. 
The ARCC meetings are held on the 1st Wednesday of each month. The deadline for turning in applications is the Friday before the meeting.Julyis beinYWe are